Thanks for signing up for our Free TikTok Marketing mini course which is designed to give you a feel for
How the TikTok App works,
What type of videos people enjoy watching on how that impacts your marketing
Plus a lesson that shows you lots of examples of TikTok marketing videos from Irish businesses.
Lesson 1:
Lesson 2
Lesson 3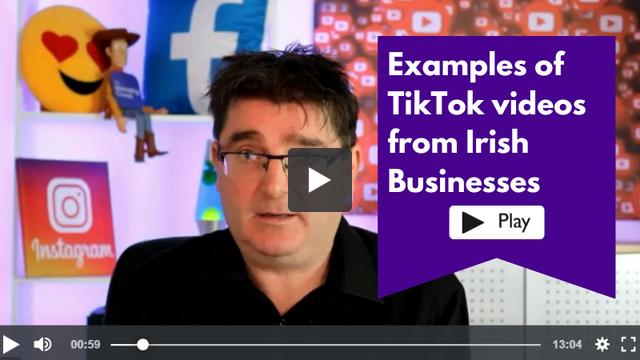 Want to learn more about using TikTok for marketing?
These three lessons are from the complete TikTok Marketing course that is on our members only website. If you are interested in watching the full course plus over 20 other digital marketing courses check out our Digital Marketing School
What is in the complete TikTok Marketing course?
Step 1: Understand How Tik Tok Works
0:00 Welcome and introduction
2:05  Poll results – how many of you use Tiktok and also make Reels
4:35  An overview of the main areas in the app – The For You Page, Friends, Create, Inbox, Profile
11:50 How does a typical person use TikTok?
13:30 How does Tik Tok compare to Facebook, Instagram, Twitter when using it as a person?
Step 2: Getting started as a business
14:45  How to signup for a TikTok Account
19:00  How to edit and brand your profile correctly
22:10 Some key settings such as privacy
24:40 The difference between personal and business accounts and should you switch?
26:30 Can you add a clickable website link to your profile?
27:50 How to turn on "Analytics" and why you should do this straight away
29:50 How the Algorithm works in the For You Page
39:09 How to search and get found
43:19 How does Tiktok compare to Facebook and Instagram as a marketing tool
Step 3: Understand what type of videos are created on TikTok
46:30  What type of videos do People tend to make
48:45 What type of videos do Businesses tend to make
Step 4: How to make and post videos
1:02:00 How to make a video with video clips, music and text
1:16:40 How to make a video with someone speaking to camera
Step 5: How to get more views for your videos
1:22:44 Tactics for getting into the For You Page and getting discovered.
Step 6: Is Tiktok for you? And how could you grow your followers?
1:26:36  How to weigh up whether TikTok is a suitable marketing tool for you
1:29:00   Tips for growing your TikTok followers
Plus members of our Digital Marketing School can download very detailed course notes for each course. There are 73 pages of notes for the TikTok Course.
About the Digital Marketing School
As a member of the school you can …
1 – Download a step by step digital marketing plan designed to help Irish businesses increase their sales.
2 – Immediately access over 20 of our latest courses as on demand step by step video lessons which show you how to implement your digital marketing – so you can learn at your own pace, whenever suits you. These courses cover …
How to advertise on Facebook & Instagram
Website marketing
SEO – how to get found high up in Google search results
How to use Instagram for marketing
How to create Reels for Instagram and Facebook
How to shoot your own marketing videos
How to edit your marketing videos on your phone and also on your PC
How to use Canva to design eye catching images for social media (Level 1 and Level 2)
How to generate more sales from your website
How to use Linkedin for marketing
How to use Tiktok for marketing
How to use digital marketing to market your business locally
How to use Digital Marketing to market your business abroad
3 – Attend a  "Live Zoom course" just for members each month for 12 months  where we cover important Digital Marketing topics in detail, including questions and answers for members. Members can also watch replays of all previous Zoom courses.
Want more details about the School? Click the link to   Read more about the Digital Marketing School